G-COATTM 600
(Electrostatic Powder Coating)
G-COATTM 600 is fine powder suitable for electrostatic coating available where higher thickness coatings are required, where difficult geometries must be coated, and in instances where enhanced properties such as release are required.
KEY FEATURES :
• One-Coat System
• High Temperature Performance up to 280°C
• Very good chemical and thermal resistance
• Excellent Abrasion Resistance
• Good Lubricity
• Optimum permeation resistance
• Excellent Radiation Resistance
• Very Good Barrier Properties
• Inherent flame retardant
• Low Moisture Absorption and
• Excellent Hydrolysis Resistance
• Good Electrical insulation Properties 
GRADES OF G-COAT 600 SERIES
| | | |
| --- | --- | --- |
| G-COATTM 600 | These grades have been specifically formulated for electrostatic powder coating, to provide a higher thickness build-up in single coat, excellent wear, and abrasion resistance with very good chemical resistance. | |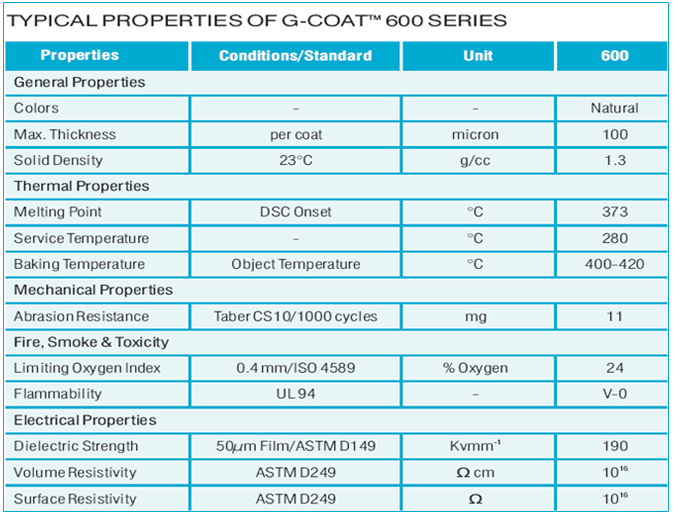 We are committed to developing innovative and economically viable solutions for the need of your industries through novel technologies. Together we can find the right solutions to secure a stronger, smarter & safer future.
Contact us to learn how G-COATTM – Surface Coating can be used to produce lighter, faster and safer products.